Good Trust Quotes to Live By
We've put together some good trust quotes for your own reflection or to share with others. Believing in someone is the foundation of all kinds of relationships. And it is also one of the most complex elements of human relationships.
Once it is gone, it is almost impossible to build it again. It is also a paradoxical element. Even though you cannot put your faith in everyone, you cannot lead a happier life without putting your faith in others.
These quotations have been said by great men and women. Share their thoughts with others or refer to them often to realize the importance of this quality in your life.
Quotes about Trust
Anyone who doesn't take truth seriously in small matters cannot be trusted in large ones either.
Albert Einstein
Most good relationships are built on mutual trust and respect.
Mona Sutphen
Love all, trust a few, do wrong to none.
William Shakespeare
Wise men put their trust in ideas and not in circumstances.
Ralph Waldo Emerson
Trust is the glue of life. It's the most essential ingredient in effective communication. It's the foundational principle that holds all relationships.
Stephen R. Covey
Trust is like a vase. Once it's broken, though you can fix it, the vase will never be same again.
Walter Anderson
Trust is like blood pressure. It's silent, vital to good health, and if abused it can be deadly.
Frank Sonnenberg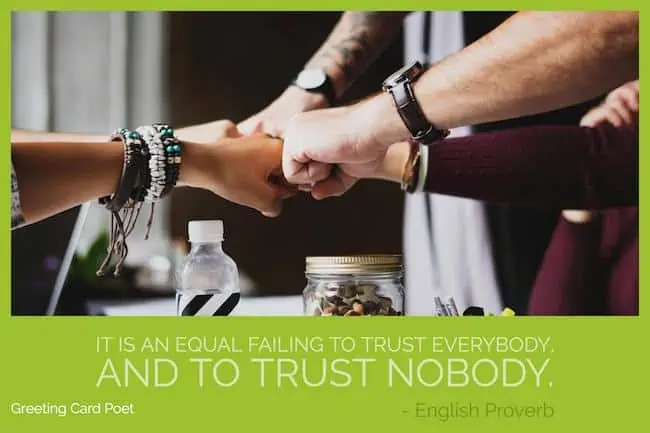 Keeping the Faith
If you don't stand for something, you will fall for anything.
Gordon A. Eadie
Trust is the lubrication that makes it possible for organizations to work.
Warren Bennis
You may be deceived if you trust too much, but you will live in torment if you don't trust enough.
Frank Crane
You must trust and believe in people, or life becomes impossible.
Anton Chekhov
Better to trust the man who is frequently in error than the one who is never in doubt.
Eric Sevareid
It is mutual trust, even more than mutual interest, that holds human associations together.
H. L. Mencken
Confidence
Just trust yourself, then you will know how to live.
Johann Wolfgang von Goethe
Go confidently in the direction of your dreams and live the life you have imagined.
Henry David Thoreau
A person who trusts himself and depends on himself has true happiness. That person does not need anyone else's approval to be happy or to feel confident in his own skin.
Unknown
Believe in yourself! Have faith in your abilities! Without a humble but reasonable confidence in your own powers you cannot be successful or happy.
Norman Vincent Peale
Don't believe words; always trust actions.
Unknown
Trust yourself. You know more than you think you do.
Dr. Benjamin Spock
Know yourself, love yourself, trust yourself, learn to spend time in your own company and listen to your innermost self.
Etta Sawyerr
Trust yourself to be able to confront and work through your emotions. If you believe you can't do it, you won't do it and you'll become stuck. If you believe you can do it, you will.
Sam Owen
The four characteristics of humanism are curiosity, a free mind, belief in good taste, and belief in the human race.
E.M. Forster
Trust Definition
"Assured reliance on the character, ability, strength, or truth of someone or something" from Merriam-Webster.
Reliability in Relationships
Betrayal is the worst … and the key to moving past it is to identify what led up to it in the first place.
Charles J. Orlando
I'm not upset that you lied to me; I'm upset that from now on, I can't believe you.
Friedrich Nietzsche
There is only one way to rebuild trust once it has been broken: over time.
Charles J. Orlando
Don't trust the person who has broken faith once.
William Shakespeare
When the trust account is high, communication is easy, instant, and effective.
Stephen R. Covey
It is easier to forgive an enemy than to forgive a friend.
William Blake
It was a mistake, you said. But the cruel thing was, it felt like the mistake was mine, for trusting you.
David Levithan
Trust is a gift. Don't try to exchange it for something else.
Charles J. Orlando
The toughest thing about the power of trust is that it's very difficult to build and very easy to destroy. The essence of trust building is to emphasize the similarities between you and the customer.
Thomas J. Watson
Believing
The trust of the innocent is the liar's most useful tool.
Stephen King
Trust is hard to come by. That's why my circle is small and tight. I'm kind of funny about making new friends.
Eminem
Learning to trust is one of life's most difficult tasks.
Isaac Watts
People ask me why it's so hard to trust people, and I ask them why is it so hard to keep a promise.
Unknown
I cannot trust a man to control others who cannot control himself.
Robert E. Lee
Trust is the easiest thing in the world to lose and the hardest thing in the world to get back.
R. Williams
Broken people lead to broken hearts. That's why it's so important to heal from one relationship before starting another.
Mandy Hale
A wise man proportions his belief to the evidence.
David Hume
Raisin cookies that look like chocolate chip cookies are the main reason I have trust issues.
Unknown
Believe that life is worth living, and your belief will help create the fact.
William James
Whoever believes in Him shall not have everlasting life in torment.
Unknown
Trust Quotes – Conviction Counts
I trust no one, not even myself.
Joseph Stalin
Don't trust anyone over 30.
Pat Boone
Like everybody and trust no one.
Lauren Conrad
Where large sums of money are concerned, it is advisable to trust nobody.
Agatha Christie
Trust your own instinct. Your mistakes might as well be your own, instead of someone else's.
Billy Wilder
Never trust anyone who wants what you've got. Friend or no, envy is an overwhelming emotion.
Eubie Blake
You believe lies so you eventually learn to trust no one but yourself.
Marilyn Monroe
Never trust anyone who has not brought a book with them.
Lemony Snicket
Trust nothing but your intuition. Your intuition will tell you who to trust.
Unknown
Never trust anyone completely but God. Love people, but put your full trust only in God.
Lawrence Welk
Never trust anything that can think for itself if you can't see where it keeps its brain.
J. K. Rowling
Professions People Place Their Faith In (and Don't)
From Gallup poll: Percentage of U.S. adults saying the following profession have high/very high honest and ethical standards:
Nurses: 82%
Military Officers: 71%
Grade School Teachers: 66%
Medical Doctors: 65%
Pharmacists: 62%
Police Officers: 56%
Judges: 43%
Clergy: 42%
Bankers: 25%
TV Reporters: 23%
Lawyers: 18%
Business Executives: 16%
Lobbyists: 8%
Nurses come out on top, with 82% of Americans considering them to have high or very high honesty and ethical standards. Lobbyists, well, not so much.
Belief
I've learned to trust myself, to listen to truth, to not be afraid of it, and to not try and hide it.
Sarah McLachlan
Silence was the first prayer I learned to trust.
Patricia Hampl
A person who never learned to trust confuses intensity with closeness, obsession with care, and control with security.
Patrick Carnes
Trust is only gained when one person risks and doesn't get harmed. It grows as both people increasingly risk and don't get harmed in the process.
Glen Williams
Trust opens up new and unimagined possibilities.
Robert C. Solomon
Put more trust in nobility of character than in an oath.
Solon
We have always held to the hope, the belief, the conviction that there is a better life, a better world, beyond the horizon.
Franklin D. Roosevelt
By Andy Atticus
You're on Trust Quotes.
You may like: