These beautiful smile quotes will, uh, put a smile on your face.
There is nothing more contagious in this world than a grin on the face. You don't need a reason to show off your teeth. All you have to do is to have a positive attitude and show folks that you're happy. The feeling is frequently contagious, and it can help make the world a better place.
An outward sign of happiness makes the world seem friendlier. This simple act carries many different meanings and emotions – from showing love to telling folks that you can trust me.
It's a symbol of happiness. When someone is grinning, people also get a glimpse into their heart's beauty. Whether it is a friend, a loved one, or a stranger, you don't need a reason – do it! Here is the collection of quotations that will inspire you to flash those pearly teeth.
Best Quotes About Smiling
Seven billion smiles, and yours is my favorite.
Unknown
Use your smile to change the world; don't let the world change your smile.
Chinese Proverb
People seldom notice old clothes if you wear a big smile.
Lee Mildon
We shall never know all the good that a simple smile can do.
Mother Teresa
Flash Those Teeth
I will keep smiling, be positive and never give up! I will give 100 percent each time I play. These are always my goals and my attitude.
Yani Tseng
Keep smiling because life's a beautiful thing, and there's so much to smile about.
Marilyn Monroe
Remember, even though the outside world might be raining, if you keep on smiling, the sun will soon show its face and smile back at you.
Anna Lee
Most smiles are started by another smile.
Frank A. Clark
There is always a reason to smile. Find it.
Unknown
Check out our hilarious jokes for a laugh.
Smile Quotes Meme
If you're not using your smile, you're like a man with a million dollars in the bank and no checkbook.
Les Giblin
Check out our 173 Cute Quotes
Happy Quotes Smiles
Keep smiling – it takes 10 years off!
Jane Birkin
You'll find that life is still worthwhile if you just smile.
Charlie Chaplin
Her smile, I'm sure, burnt Rome to the ground.
Mark Z. Danielewski
If you see a friend without a smile, give him one of yours.
Proverb
Nobody needs a smile so much as the one who has none to give.
Lawrence G. Lovasik
In the fairy tales, the poor girl smiles when she becomes a princess. Right now, I don't know if I'll ever smile again.
Victoria Aveyard in Red Queen
Tip: Use these quotes as captions for Instagram or Facebook posts.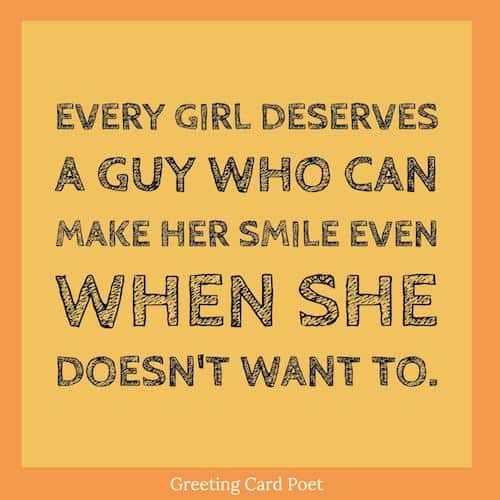 The World's a Happy Place
I want to be more like Pixie Lott. She works really hard but always manages to keep smiling. She never complains.
Ellie Goulding
Keep smiling. It makes people wonder what you have been up to.
Unknown
Your toenails fall off, and you peel them away, and then you're asked to dance again and keep smiling.
Penelope Cruz
Whatever happens, just keep smiling and lose yourself in love.
Rumi
As long as you live, keep smiling because it brightens everybody's day.
Vin Scully
If you smile when no one else is around, you really mean it.
Andy Rooney
Sometimes we're gonna have our bad days, but we must continue to work to be great. Keep smiling. It looks beautiful on you.
Demi Lovato
Put a Smile on Someone's Face
Let us always meet each other with a smile, for the smile is the beginning of love.
Mother Teresa – More quotes on being kind.
Today, give a stranger one of your smiles. It might be the only sunshine he sees all day.
H. Jackson Brown, Jr.
Be the reason someone smiles. Be the reason someone feels loved and believes in the goodness in people.
Roy T. Bennett – Check out his Twitter feed.
If you put a smile on someone's face, it was a good day.
Harvey Stelman
If you have only one smile in you, give it to the people you love.
Maya Angelou
Always find opportunities to make someone smile and to offer random acts of kindness in everyday life.
Roy T. Bennett
Smiling Quote Image
Her smile
I wished for nothing beyond her smile and to walk with her thus, hand in hand, along a sun-warmed, flower-bordered path.
Andre Gide
Every woman's heart has instructions. They are written in her eyes, in her smile, through her actions, and in her tears. All she has to do is run into someone who cares enough to read them.
Unknown
Her smile steps offstage for a moment, then does an encore, all while I'm dealing with my blushing face.
Haruki Murakami
Every girl deserves a guy who can make her smile even when she doesn't want to.
Unknown
Never underestimate a girl's love for her favorite band. That band might have saved her life or just made her smile every day.
Alex Gaskarth
You might like 105+ Hard Work Quotes.
Smiling From Ear to Ear
When; a girl is in love, you can see it in her smile. When; a guy is in love, you can see it in his eyes.
Unknown
One of my great secrets was knowing I had the power to make her smile.
Anita Diament
The beautiful light behind her smile makes her eyes glow with a love for life I've never experienced before what true beauty is.
Unknown
Tip: A smile calms the nervous system and relaxes the muscles in our face. It makes us feel better. So, put on a happy face and enjoy these sayings.
Beauty Quotes
Peace begins with a smile.
Mother Teresa
A smile is a curve that sets everything straight.
Phyllis Diller
A smile is the universal welcome.
Max Eastman
If you're reading this…
Congratulations, you're alive.
If that's not something to smile about,
then I don't know what is.
Chad Sugg
Always keep your smile. That's how I explain my long life.
Jeanne Calment
Grin and Bear It Sayings
Smile in the mirror. Do that every morning, and you'll start to see a big difference in your life.
Yoko Ono
A smile remains the most inexpensive gift I can bestow on anyone, and yet its powers can vanquish kingdoms.
Og Mandino
A smile is an inexpensive way to change your looks.
Charles Gordy
Every smile makes you a day younger.
Chinese Proverb
All people smile in the same language.
Proverb
A Beaming Face
There's always a reason to smile. Find it.
Unknown
A smile is the prettiest thing you can wear.
Unknown
I'm wearing the smile you gave me.
Unknown
All Smiles Sayings
Smile – Happiness looks gorgeous on you.
Unknown
See
Miracles
In
Life
Everyday.
I was smiling yesterday, I am smiling today, and I will smile tomorrow simply because life is too short to cry for anything.
Santosh Kalwar
Everyone smiles in the same language.
Unknown
By Mike O'Halloran
O'Halloran, the editor of Greeting Card Poet, compiled this list with, uh… a smile on his face.
Encore
If you have any suggestions for our collection, please let us know on our Contact page. Thanks!
You might like these Quotes pages: